'Foxy - Rivalry at Summer Camp' is the latest book in the fabulous Pony Detectives series but get back to the start and meet the Pony Detective gang and their horses in the very first adventure 'Moonlight - Star of the Show' and it is such a fun summer read!
The horses and ponies we are showcasing today are clearly having a great time playing dress-up - or at least their owners are. Join us in a bit of #horsingaround and tweet us your fave pictures of animals in fancy dress @templarbooks
The Top Five Costumes for horses and ponies:
1. Sheep with Little Bo Peep
2. Harry Potter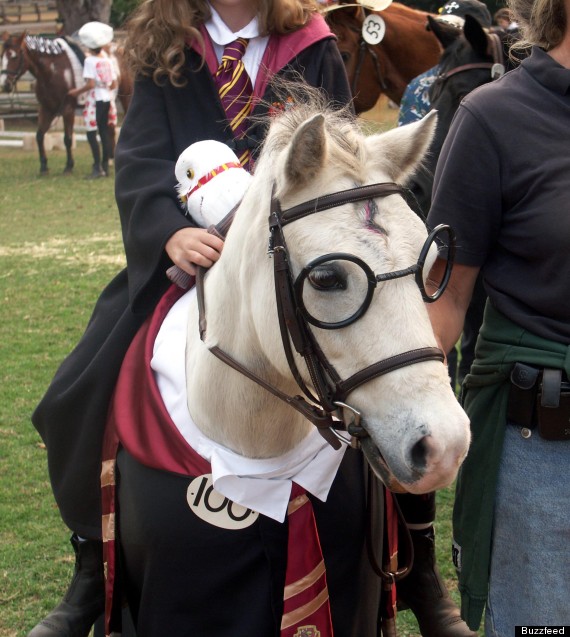 3. Horse Fish
4.Horse-poodle
5. Unicorn lookalike
If you love horses
and

e

quine adventures with a mystery-solving twist.
, the newest addition to The Pony Detectives series is the perfect book for you!
Moonlight - Star of the Show is a fun, engaging and interesting read that is perfect for the young horse-lover.
And if you haven't yet started reading the series check out 'Moonlight - Star of the Show' which is on offer for 99p as an e-book - you can buy it HERE
Come down to Blackberry Farm and meet four horse-mad best friends: Rosie,

Alice, Mia and Charlie. The girls stable their ponies at Blackberry Farm's yard, and spend every moment they have with their ponies and each other. But the foursome aren't just good at jumping and showing – they're also great at solving mysteries!

A brand new mystery-solving adventure series packed with pony facts and tips.
When local champion show-jumping pony Moonlight disappears just before the prestigious Fratton Cup competition, the girls leap into action, following clues and getting themselves into sticky situations as they solve the case of the missing pony.
Simply click on this link if you'd like to read reviews or buy
Moonlight - Star of the Show on Amazon: 99p special offer